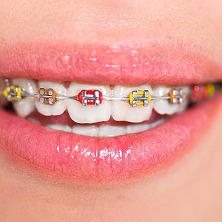 Treatments Braces Traditional
Traditional Metal Braces
Traditional metal braces are the most popular type of braces because they are proven to work and have been around the longest. However, today's version of these braces are more comfortable than ever before. This orthodontic appliance is typically made of medical-grade stainless steel and uses metal brackets and archwires to slowly move your teeth into position. With metal braces, you can add color elastics or rubber bands to your brackets for a custom look.
Treatments Braces Ligating
Self-Ligating Braces
Self-ligating braces come in a variety of styles including metal, ceramic, and clear brackets. These brackets are similar in size and features to metal braces but with one key advantage, they use a clip instead of elastics. This specialized clip assists the archwire in guiding the teeth into place. With self-ligating braces, less pressure is placed on the tooth making the experience more comfortable. There are also fewer adjustments during treatment because there are no elastics to replace.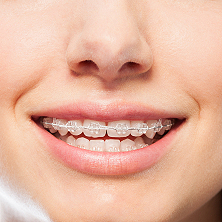 Treatments Braces Ceramic
Clear (Ceramic) Braces
Ceramic braces are a great option for those who want the reliability of traditional metal braces with a more discrete appearance. The trade-off is that these braces are a bit more delicate and require more attention to cleaning. They are best suited for older teens and adults.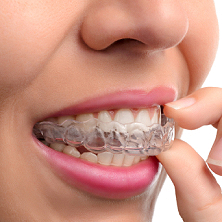 Treatments Braces Aligners
Clear Aligners
Clear aligners are the ultimate orthodontic solution for patients who are concerned with their comfort and appearance. Clear aligners work by using a series of removable trays to move your teeth little by little. The trays are custom-fitted to each patient and made of flexible acrylic material and contain zero metal, making them very comfortable. The aligners are also invisible and you can remove them to eat or drink your favorite snacks and to brush and floss your teeth.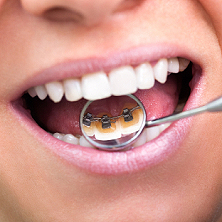 Treatments Braces Lingual
Lingual Braces
When you smile, lingual braces are "invisible" because they are concealed beneath the teeth. The metal appliances are made specifically for you, and they are completely personalized to fit the contour of your teeth. Athletes, models, actors and actresses, artists who play wind instruments, and adult professionals may all benefit from lingual braces.
Contact us to book an appointment today!